tiffany foster
Under the guidance of Brent and Laura Balisky in Langley, B.C., Tiffany Foster had the distinction of winning both the Running Fox CET Medal and the Jump Canada Medal at the 2001 Royal Horse Show in Toronto. In 2006, Foster began working for Olympic gold medallist Eric Lamaze. She exploded onto the international show jumping scene in 2011 and made her Canadian Equestrian Team debut aboard Southwind VDL in the $350,000 BMO Nations' Cup at the Spruce Meadows "Masters" tournament, helping Canada earn a second place finish. Foster has now represented Canada in numerous Nations' Cup competitions worldwide including Buenos Aires, Argentina; Barcelona, Spain; and Aachen, Germany, as well as at the 2014 FEI World Equestrian Games in Normandy, France.
In 2014, riding her newest mount Tripple X III, she helped Canada bring home the win in the $300,000 Nations' Cup at the CSIO5* Spruce Meadows "Masters" tournament. In 2015, Foster and Tripple X III helped Canada win team jumping gold at the Pan Am Games in Toronto. In her second Olympic Games at Rio 2016, Foster and Tripple X III helped Canada to a fourth place finish in the team event, losing a jump-off to Germany for the bronze medal. In 2017, Tiffany launched Little Creek Equestrian, a full service training competition and sales barn. Based out of Wellington, Florida and Vrasene, Germany. In February 2018, Tiffany successfully helped Team Canada claim 1st place in the Nations Cup at CSIO 5* Ocala. Currently Tiffany will be travelling around the globe this 2018 show season to compete in FEI classes with her horses as well as showing at Spruce Meadows in Calgary CA. Tiffany is pictured here wearing Konia's Lennox lightweight jacket in Onyx.
www.tiffanyfoster.ca
Beth underhill
Beth Underhill's International Show Jumping career places her today as an impressive veteran of Pan American, Olympic and World Equestrian Games. Today Beth is still competing at the highest level and is also one of Canada's top coaches for junior/amateur riders through to Grand Prix athletes. Beth has a wealth of experience to share with students; as the Leading Woman Rider in the World in 1995, also the first woman to win the Canadian World Cup League as well as representing Canada in the Olympics and many Nations Cup Competitions across the world: Italy, Spain, Luxembourg, Germany, Ecuador, USA, Holland. Beth was also the leading trainer of the Ultimate Hunter Challenge and has twice been named Coach of the Year in Canada.
Beth has been Chef d'Équipe for the North American Young Riders Team, part of the selection committee for Canada's future team riders and a member of the High Performance Committee that selects our team riders for international and major games competitions. Canadian Grand Prix riders have elected Beth as their Grand Prix rider representative to the Jump Canada Board for the past 8 years as well as the FEI Competitions Approval Committee representing Canada.
Beth Currently trains out of Valhalla Equestrian in King Township, Ontario. Where she successfully trains riders and horses in the Hunter and Equitation divisions, guiding one of her students to win the CET Medal Finals at the Royal Agricultural Winter Fair. Beth's greatest joy is competing. She feels privileged to work with and coach so many aspiring equestrians. Beth will be competing and coaching internationally and across Canada this 2018 seaspn. Beth is pictured here wearing the Odelia vest in Opal.
www.bethunderhill.com
sarah johnstone
A devoted young professional, Johnstone got her start as a working student with two-time Canadian Olympian Jay Hayes. In 2006, she won both the CET Medal Final and Jump Canada Medal Final at the Royal Horse Show in Toronto, ON. She claimed her first victory in International Equestrian Federation (FEI) competition in 2011 before spending 2012 based in The Netherlands with Dutch Olympian Emile Hendrix and his brother Paul, who operate a large international training and sales business. There, Johnstone qualified two horses for the 2012 World Breeding Championships Young Horse Finals. Upon her return to Canada, Johnstone joined Canadian Olympian Beth Underhill at her Beth Underhill Stables in Schomberg, ON. She is currently head trainer at Wingberry Farms in Nobleton, ON. Sarah is pictured here wearing Konia's Anya in Moss green.
www.wingberryfarms.com
adrienne sternlicht
Adrienne Sternlicht trained with Olympians Nick Skelton and Laura Kraut for two years and built her string to include two 9-year-olds and two 11-year-olds. Currently back working with Langmeier, in addition to a new training relationship with Olympian McLain Ward, Sternlicht is hoping for a breakout year that culminates with qualifying for the 2017 World Cup Finals.
The 22-year-old rider already has a handful of big results in 2015 to improve on, including winning the Show Jumping Hall of Fame Jumper Classic Series Final at the National Horse Show, the puissance at CSI3* Megeve, and multiple victories in the 1.35-meter through 1.45-meter divisions in Florida and in Europe.
Using the 2016 Winter Equestrian Festival as a building circuit, Sternlicht delivered an impressive double clear aboard Raia d'Helby in the $130,000 Ruby Et Violette WEF Challenge Cup Round VII at Winter Equestrian Festival CSI5* and placed 9th out of 71 entries. Come the end of this year's winter season, Sternlicht plans to be successfully jumping the big grand prix classes and well prepared for Spruce Meadows in the summer, directly after graduating with a bachelor's degree in public policy in May.
Lexus is a young upcoming professional who got her start riding with Carly Campbell-Cooper. In 2013, she was part of the senior Young Riders Team for Canada where she individually placed 12th, as well as being second overall in the Talent Squad. Lexus has recently returned back to Canada after spending some time riding in Europe. Lexus is currently working at forest hill farm.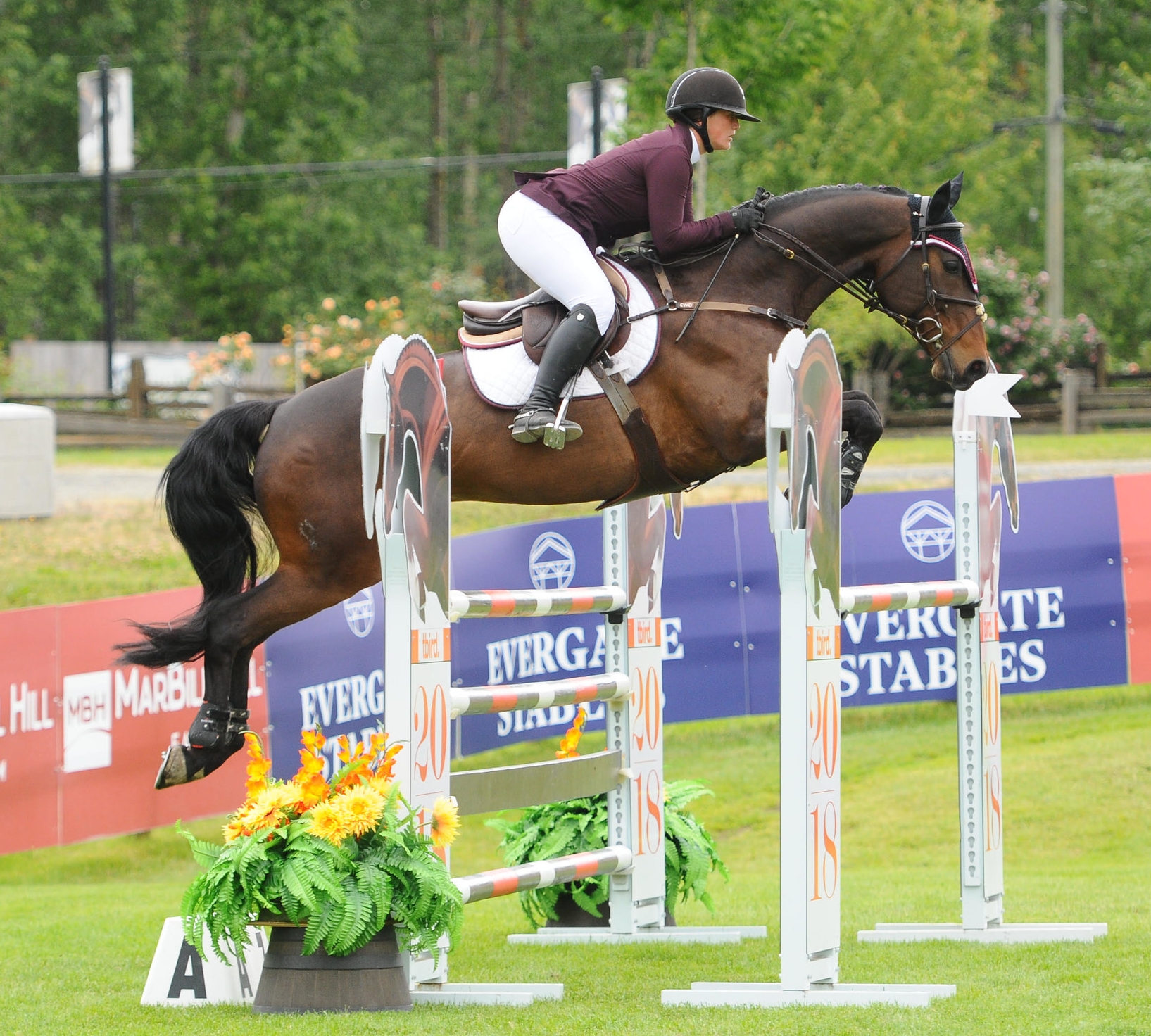 Kassidy Keith has been riding since before she could walk. In 2015 she won both the CET medal finals and Jump Canada Medal finals. At 14 years old, she began showing and riding Crackerjack, her first grand prix mount. Together they have attended North American young riders as a part of the junior team and finished fourth with the team and tenth individually. Kassidy spent the last ten months showing Crackerjack in Florida and competing at the 1.45m Level. Kassidy is excited to be bringing along her 6 year old jumper this year. She has recently returned back to BC and is looking forward to starting an equestrian business in Langley.